NSI Rising Stars in Immunology Seminar Series
The NSI Rising Stars in Immunology Seminar Series began this year with the aim to invite young PIs from all over the world working on immunology.
The seminar series started with Dr. Roger Geiger (https://www.geigerlab.org/), who will talk about: Systems analyses of anti-tumor T cell responses

Talk coordinates: Thursday, Jan 28 at 14.00.  Zoom details:  https://uio.zoom.us/j/61962634612?pwd=MjJVSkU3MVlmNkJxaERXNkNlT3Y4UT09 Meeting ID: 619 6263 4612, Passcode: 656066.
[Bio: Dr. Geiger obtained his PhD from the ETH Zürich under the supervision of Ari Helenius. He received postdoctoral training in immunology with Antonio Lanzavecchia and in proteomics with Matthias Mann. Since 2017 Roger is an independent group leader at the Institute for Research in Biomedicine, CH. His groups works mainly on T-cell metabolism. He was awarded an ERCStG in 2018. His latest article is on Dynamics in protein translation sustaining T cell preparedness, https://www.nature.com/articles/s41590-020-0714-5].
---
Systems Immunology seminar
This is a seminar co-hosted by the NSI and the UiO FOCIS Centre of Excellence. In addition to talks by local researchers, we have two excellent international speakers, Sai Reddy from ETH Zurich (https://www.bsse.ethz.ch/lsi) and Aimee S. Payne from University of Pennsylvania (http://www.med.upenn.edu/apps/faculty/index.php/g20000220/p4430217).
Time and place: Friday, August 24, from 13.00, Auditorium 1 (Grønt), Rikshospitalet
After the seminar we will arrange a BBQ with wine and beer outside Cafe Erik (Domus Medica). The BBQ is free for NSI members. 200 kr for non-members (including NSI membership for 2018). We will be eating inside or outside depending on the weather. Deadline to sign up for the BBQ is August 15. Now closed!
Payment details (for non-members only)
NSI v/Raquel Bartolomé Casado
Department of Pathology
University of Oslo, Oslo University Hospital
Account no.: 0540.08.38560
Please write YOUR NAME in the information box
---
Workshop on the Danger Model
The NSI arranged a two-day workshop on the Danger Model with Polly Matzinger and many other national and international experts in the field.
See the full program for the workshop below
---
NSI Workshop on how to write grant applications 2014
The NSI orgnaized October 20th a mini-seminar on how to write grant applications, with 20 min talks by:
Dmitrii Rodionov, CreoTech
Benedicte A. Lise, professor
Erik Dissen, professor
The slides from Lies talk can be found below:
---
NSI Happy Hour 2014
It is a pleasure to welcome you all to the NSI Happy Hour 2014, which will take place October 8th at 5 pm in Runde Auditorium at Domus Medica.
Theme: Research-based innovations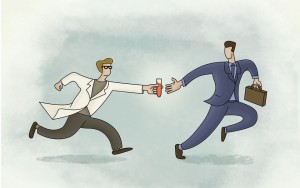 What is needed to motivate basic researchers in academia to turn their discoveries into new innovations? What is required to make a commercial spin-off, and what is the reward for the researcher? How can we bridge the innovation gap between academia and the R&D industry?
Program
5 pm: "Commercialization of research-based innovations" by entrepreneur and investor Eirik Næss-Ulseth, who has 30 years experience in commercialization of innovations in biomedicine, IT, and physics.
5:30 pm: "Technology Transfer: From Science to Business" by Technology Strategy Manager Anders Holm, Inven2. Inven2 is an innovation company owned by the University of Oslo and Oslo University Hospital, established to develop innovations.
6 pm: Pizza, beer/wine/soft drinks are served in Café Eric just outside the auditorium with excellent opportunities to socialize with colleagues!
---
23rd October 2013: R&D meeting:
The immune system and cancer – immunological effects of cancer therapies
Coorganized with the Oslo Cancer Cluster.
Program here.
---
9th October 2013: NSI Happy Hour 2013
ImmunoIdol competition, drinks, food and great company.
Program:
Rotunden 15.00-16.00 and 16.00-20.00
Contestants:
Trond Halstensen (Odont), Alex Corthay (CIR/OUS), Siri Mjaaland (FH), Tore Abrahamsen (OUS), Ludvig Munthe (CIR/IMM), Inger Sandlie (CIR/IBV)
Jury:
Line Alsaker (NRK), Simen Kvaal (UIO), Ingvild Haugstad (Det andre teatret)
16.00-20:00: Poster session and sponsor presentations
Poster prize will be awarded!
---
ImmunQuiz 2013
w/ quizmaster Frode Vartdal, dean of the medical faculty
February 27th
18.00, at Anestesien, Rikshospitalet, Oslo