Meeting history
This page gives information about NSI meeting history in recent years.
Most recent meetings:
NSI 32nd Annual Meeting and General Assembly 2014
Time: Thursday November 13th 11:00 ‐18:00
Venue:   Nye Auditorium 13, Domus Medica, University of Oslo
Time:     Thursday November 13th, from 11:00
The Annual Meeting with scientific presentations will be held from 11:00 – 18:00, directly followed by the General Assembly from 18:00-18:30.
The poster session with refreshments will be held outside Auditorium 13 from 18:30 – 19.30, followed by the Annual Dinner and Party in Forvalterboligen at Rikshospitalet at 19:30.
Abstract presentations
We encourage all NSI members to submit abstracts for the meeting. 8-10 of the submitted abstracts will be selected for oral presentations. Please note that oral presentations may qualify for study points towards a degree. In addition, we hope to see many posters and discussions during the poster session. Please indicate during registration whether you wish to present a poster. Poster presentation is independent of the oral presentations, and you may present in both formats.
Agenda for the General Assembly
The agenda for the General Assembly is included as a separate attachment. All documents for the General Assembly will be circulated to all members no later than 1 week prior the Assembly. Members that wish to bring up an item for discussion at the General Assembly can notify Marit Inngjerdingen at mariti@medisin.uio.no in advance in order to put it on the agenda.
Registration
Abstract submission and registration for the NSI Annual Party is now open at https://nettskjema.uio.no/answer/61743.html, and we encourage you to register by November 1st.
Please pay 200 NOK for the dinner and party upon registration, using the bank account 0540 08 38560 (Norsk Selskap for Immunologi).
Mark the payment with your name and "NSI Annual Meeting".
Program
11:00 NSI Special Guest Lecture
Per Brandtzæg, Department of Pathology, OUS
The advent of immunological research in Norway and NSI as a catalyst
11:45 NSI Main Lecture
Prof. Chiara Romagnani, Deutsches Rheuma-Forschungszentrum Berlin
To be announced (Topic: ILCs)
12:30 Lunch
13:00 National NSI Speakers
Kristin Fenton, Department of Medical biology, University of Tromsø
Lupus nephritis: from mesangial cell activation to development of tertiary lymphoid structures
Jan Terje Andersen, Department of Immunology, Oslo University Hospital
Intracellular antibody sensing in the battle against infection
Piotr Mydel, Department of Clinical Science, University of Bergen
Post-translational modifications as a modulator of immune responses
15:30 Abstract sessions I and II (separated by coffee break)
18:00 NSI General Assembly
19:30 NSI Annual Dinner and Party, Forvalterboligen, Rikshospitalet
NSI Workshop on how to write grant applications 2014
The NSI orgnaized October 20th a mini-seminar on how to write grant applications, with 20 min talks by:
Dmitrii Rodionov, CreoTech
Benedicte A. Lise, professor
Erik Dissen, professor
The slides from Lies talk can be found below:
NSI Happy Hour 2014
It is a pleasure to welcome you all to the NSI Happy Hour 2014, which will take place October 8th at 5 pm in Runde Auditorium at Domus Medica.
Theme: Research-based innovations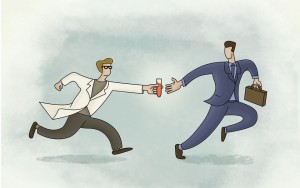 What is needed to motivate basic researchers in academia to turn their discoveries into new innovations? What is required to make a commercial spin-off, and what is the reward for the researcher? How can we bridge the innovation gap between academia and the R&D industry?
Program
5 pm: "Commercialization of research-based innovations" by entrepreneur and investor Eirik Næss-Ulseth, who has 30 years experience in commercialization of innovations in biomedicine, IT, and physics.
5:30 pm: "Technology Transfer: From Science to Business" by Technology Strategy Manager Anders Holm, Inven2. Inven2 is an innovation company owned by the University of Oslo and Oslo University Hospital, established to develop innovations.
6 pm: Pizza, beer/wine/soft drinks are served in Café Eric just outside the auditorium with excellent opportunities to socialize with colleagues!
23rd October 2013: R&D meeting:
The immune system and cancer – immunological effects of cancer therapies
Coorganized with the Oslo Cancer Cluster.
Program here.
9th October 2013: NSI Happy Hour 2013
ImmunoIdol competition, drinks, food and great company.
Program:
Rotunden 15.00-16.00 and 16.00-20.00
Contestants:
Trond Halstensen (Odont), Alex Corthay (CIR/OUS), Siri Mjaaland (FH), Tore Abrahamsen (OUS), Ludvig Munthe (CIR/IMM), Inger Sandlie (CIR/IBV)
Jury:
Line Alsaker (NRK), Simen Kvaal (UIO), Ingvild Haugstad (Det andre teatret)
16.00-20:00: Poster session and sponsor presentations
Poster prize will be awarded!
26th April 2013: Day of Immunology 2013
"Autoimmunitet. Når kroppen går til angrep på seg selv"
11.00 – 15.00, Litteraturhuset
The Day of Immunology is a conference created to bring awareness of immunology to the public, featuring popular science lectures and talks from prominent immunologists.
The induvidual talks can be found in these links:
To be added
ImmunQuiz 2013
w/ quizmaster Frode Vartdal, dean of the medical faculty
February 27th
18.00, at Anestesien, Rikshospitalet, Oslo
NSI Happy Hour 2012, 12.september 2012
Lectures, drinks, food and great company.
Program:
15.00-16.00:  Prof. Gary Koretzky, MD, PhD
Abramson Family Cancer Research Institute
University of Pennsylvania , USA
"Signaling Mutants Uncover Rare Populations
of Innate-Like Lymphocytes"
Abstract
16.00-16.30   Greger Abrahamsen, PhD
Insitute of Basal Medical Sciences
University of Oslo
"Image Stream flow cytometry"
The lectures will be in Auditorium 13, Domus Medica.
16.45-21:00:  Poster session and sponsor presentations, Atrium in Domus Medica.
Poster prize will be awarded!
30th November 2o12: Annual meeting and general assembly
Venue: Rotunden, Domus Medica, new building
13:00‐13:30: Frode Jahnsen (Oslo): "Disturbed lipid metabolism in fetal skin predisposes for development of allergic disorders"
14:00‐14:30: TrudeHelen Flo (Trondheim): "Molecular mechanisms of mycobacterialinfections. An overview"
14:30‐14:45: Break with refreshments
14:45‐16:00: Abstract session 1
16:00‐16:30: Break with refreshments and snacks
16:30‐17:30: Abstract session 2
17:30‐18:00: General Assembly
18:30‐01:00: Annual party with tapas, drinks, music and dance
Venue: DomusMedica, new building cantina, 2nd floor
27th April 2012: Day of Immunology
"Maten og immunforsvaret"
11.00 – 15.00, Universitets Aula, Oslo
The Day of Immunology is a conference created to bring awareness of immunology to the public, featuring popular science lectures and talks from prominent immunologists.
The induvidual talks can be found in these links:
Anne Spurkland, Ludvig Sollid, Morten Vatn, Helene Lindvik
16th February: ImmunQuiz 2012
w/ quizmaster Zoltan Fehervari, editor of Nature Immunology
18.00, at Anestesien, Rikshospitalet, Oslo