---
24-27 October 2018, Lisbon, Portugal.

The 18th Biennial Meeting of the European Society for Immunodeficiencies (ESID 2018) is your opportunity to stay up to date and hear the latest cutting edge advances in the field of immunodeficiencies. The Meeting will take place 24-27 October 2018 in Lisbon. The scientific programme will bring together leading international experts to discuss breakthroughs in diagnostic immunology, genetics and immunobiology of human diseases, advances in clinical practice, novel therapeutic approaches to tolerance induction and new insights into stem-cell and cellular therapies. Learn more here .
---
EFIS TUMORIMMUNOLOGY COURSE 2017
16-18 October 2017, Naples, Italy.

The European Federation of Immunological Societies (EFIS) is arranging the course "Tumor Immunology: from tissue microenvironment to immunotherapy". Please go here for more information.
---
16th EUROPEAN MEETING ON COMPLEMENT IN HUMAN DISEASE
8-12 September 2017, Copenhagen, Denmark.

The 16th European Meeting on Complement in Human Disease will be arranged in Copenhagen from September 8th – 12th 2017.
The meeting is organized on behalf of the European Complement Network Organization. Please see the webpage for further details.
---
44th ANNUAL MEETING OF THE SCANDINAVIAN SOCIETY FOR IMMUNOLOGY (SSI 2017)
17-20 October 2017, Stockholm, Sweden.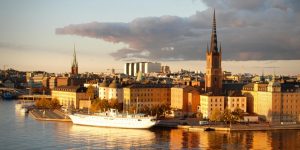 The 44th annual meeting of the Scandinavian Society for Immunology (SSI 2017) will be held in Stockholm, October 17-20. Please see the SSI 2017 webpage for further details.
Travel grants will be available for NSI members. More information about this will come later.
---
43rd ANNUAL MEETING OF THE SCANDINAVIAN SOCIETY FOR IMMUNOLOGY
May 10-13 2016, Turku, Finland.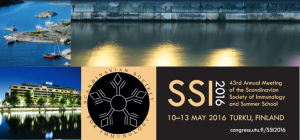 The Scandinavian Society of Immunology (SSI) announces travel grants for the SSI meeting in Turku 10-13th of May for PhD students and post-docs that are members of the SSI. Several grants will be awarded, and the size of travel grants will be:
300€ for applicants from members of the Finnish society,
900€ for applicants from the Icelandic society
and 600€ € for members of the Danish, Norwegian and Swedish societies
Applications should be in the format of ONE pdf-file marked with the name of the applicant and include abstract, a short CV and a letter of recommendation from supervisor. The application should be sent to Eva Sverremark-Ekström (eva.sverremark@su.se).
Deadline for applying: 15th of February 2016.
---
INTERNATIONAL CONGRESS OF IMMUNOLOGY 2016
August  21-26 2016, Melbourne, Australia.