NSI Rising Stars in Immunology Seminar Series
Thank you all for the enthusiastic participation at the first NSI Rising Stars seminar with Roger Geiger. For the 2nd talk, we are pleased to have Dr. Jeremy Swann – see seminar details below:
Speaker: Jeremy Swann
'Adaptive disarmament: the immunogenetics of deep-sea anglerfish'
Date: Thursday, Feb 25 at 14.00
Zoom details: https://uio.zoom.us/j/65355954320?pwd=bEhkTGl3UDVJaEw5RU4wRGdJV0N1QT09
Meeting ID: 653 5595 4320
Passcode: 815098
[Bio: Dr. Swann obtained his PhD from the University of Melbourne under the supervision of Mark Smyth. He is a group leader at the MPI of Immunobiology and Epigenetics  (Freiburg, Germany). His latest article is on The immunogenetics of sexual parasitism, https://science.sciencemag.org/content/369/6511/1608]
---
2021 NSI membership fees – due 31 March 2021
Thank you for supporting NSI with your NSI membership fees. Your contributions help NSI publicize Norwegian Immunology within the local, national and international research community.
For Individual membership: 300 NOK (Ordinary), 200 NOK (Master students), and 65 NOK SJI e-subscription.
For group membership: 300 NOK (Ordinary), 200 NOK (Master students), and 65 NOK SJI e-subscription.
Please click here for payment details. Deadline for payment is 31 March 2021.
---
New NSI logo
A new NSI logo created by Kushi Kushekhar (NSI Committee member) and Yi Zheng (Yi Zheng Illustrations) was approved at the 2020 NSI General Assembly. The logo is inspired by traditional Norwegian knitting patterns ('strikkeoppskrifter').
Congratulations Kushi and Yi on the fantastic collaboration.

---
2020 NSI Immunology Prize – Malin C. Bern
Malin C. Bern et al. is the winner of the 2020 NSI Immunology Prize. Congratulations to her and the entire team for their excellent work entitled:
'An engineered human albumin enhances half-life and transmucosal delivery when fused to protein-based biologics'
A video summary can be viewed here: https://www.youtube.com/watch?v=l6qzrMzsI_Q
---
Per Brandtzæg's travel grant for mucosal immunology research
The Per Brandtzæg travel grant of NOK 100,000 will support training in mucosal immunology research.
The application must contain the following documents:
Project plan (maximum 10 pages)
CV (maximum 2 pages)
List of publications
Budget containing information about travel and accommodation as well as any support from other sources
Letter of recommendation from a relevant Norwegian institution and an invitation letter from the head of the department at the foreign institution where the applicant will stay
Click this link for more information.
The application can be written in English or Norwegian. The application documents must be collected in one pdf document and sent no later than 20th November 2020 to Professor Emeritus Frode Vartdal (e-mail: frode.vartdal@medisin.uio.no).
---
New SSI logo – congratulations Kushi!
Huge round of applause to our very own Kushi Kushekhar (NSI Committee member) for designing the new Scandinavian Society for Immunology (SSI) logo!
We are extremely proud of your well-deserved recognition Kushi!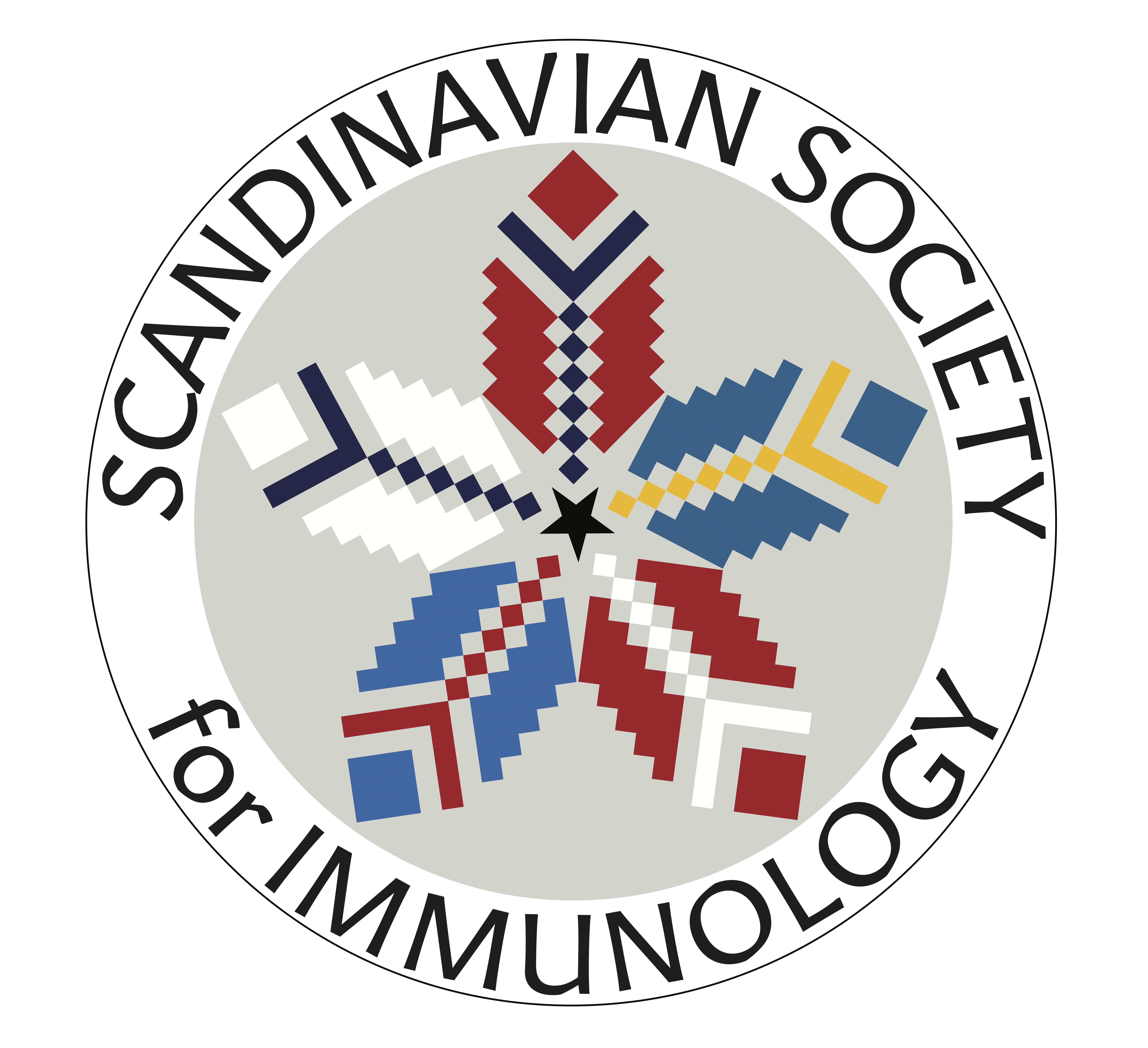 ---
38th NSI Annual Meeting and General Assembly
Registration for the 38th NSI Annual Meeting and General Assembly is now open.
Date: Friday, November 27, 2020
Time: 9.00 to 10.00 CEST
Location: Zoom (link to be sent closer to the meeting date)
Registration deadline: November 26, 2020
Please register here: https://nettskjema.no/a/163486
Programme Highlights:
Given the circumstances with covid-19, NSI has opted for a virtual Annual Meeting on Zoom shortened to the essential programme items: (1) the General Assembly and (2) a presentation by the recipient of the NSI research prize.
09.00–09.30 General Assembly
09.30–10.00 presentation by recipient of NSI research prize
We are seeking nominations for the NSI Research Prize, which recognizes an outstanding article published within the last year (Nov 2019–present).
Please send nominations to Victor Greiff (victor.greiff@medisin.uio.no) before November 01​.
Eligibility information is here: https://norwegianimmunology.org/immunology-prize/
---
The 19th Biennial Meeting of The European Society of immunodeficiencies (ESID 2020) will now take place October 14-17, 2020 as a virtual meeting.

---
---
---
---
3rd International NTNU Symposium on Clinical Biomarkers of Cancer: 
Early detection and cancer therapy prediction; are we there?
**Meeting has been rescheduled to June 14 – 18, 2021 
due to COVID-19**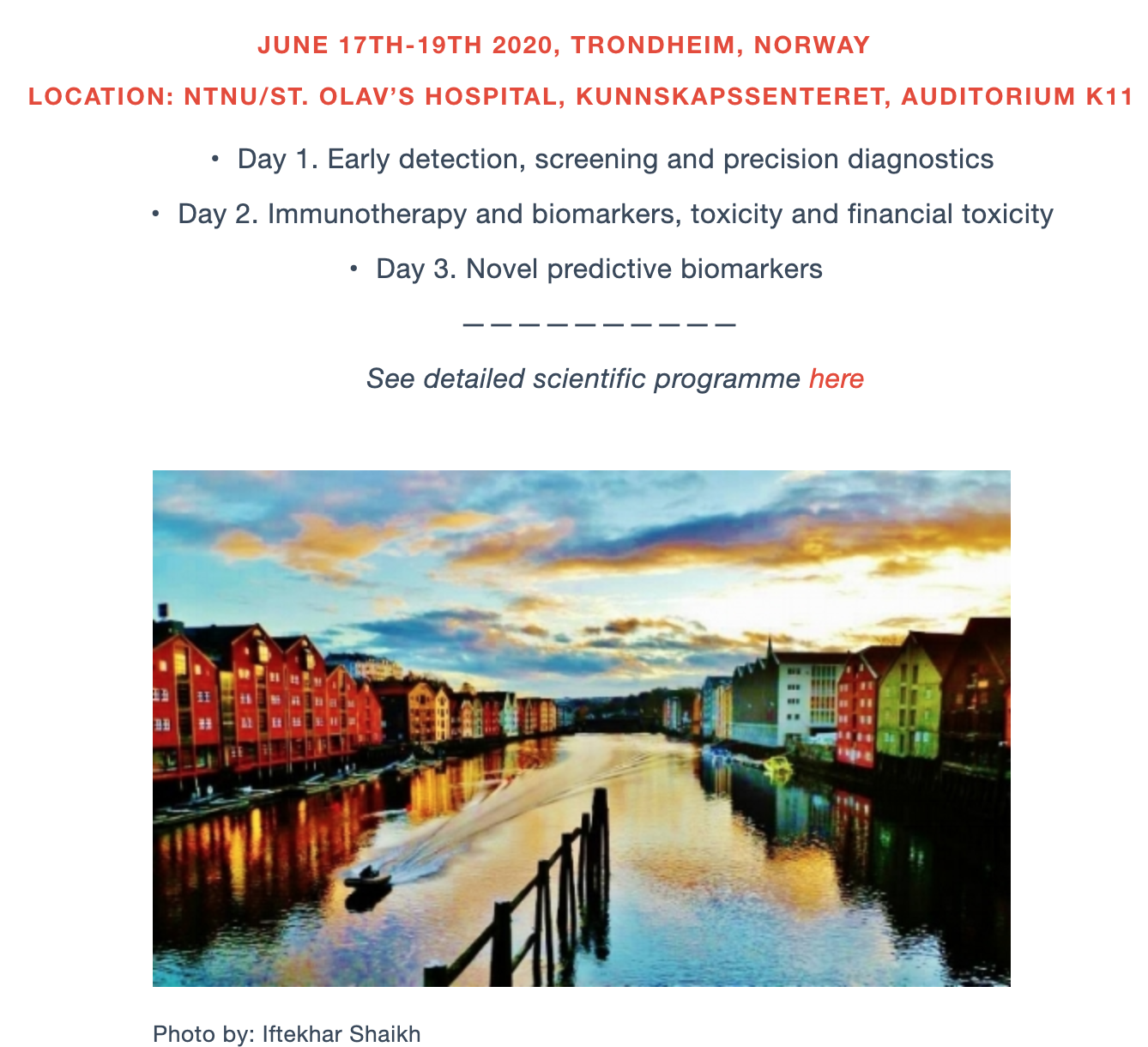 Read more about the Symposium here.

Register for the Symposium here.

NSI will award five 2000 kr travel awards – register today!
---
NSI Patrons and Sponsors
Immunology is a collaboration between excellent academic research and innovative companies aiming to understand disease mechanisms and develop new therapeutics.
NSI greatly appreciates the support of the following academic centers and industrial partners in fostering the Norwegian immunology community.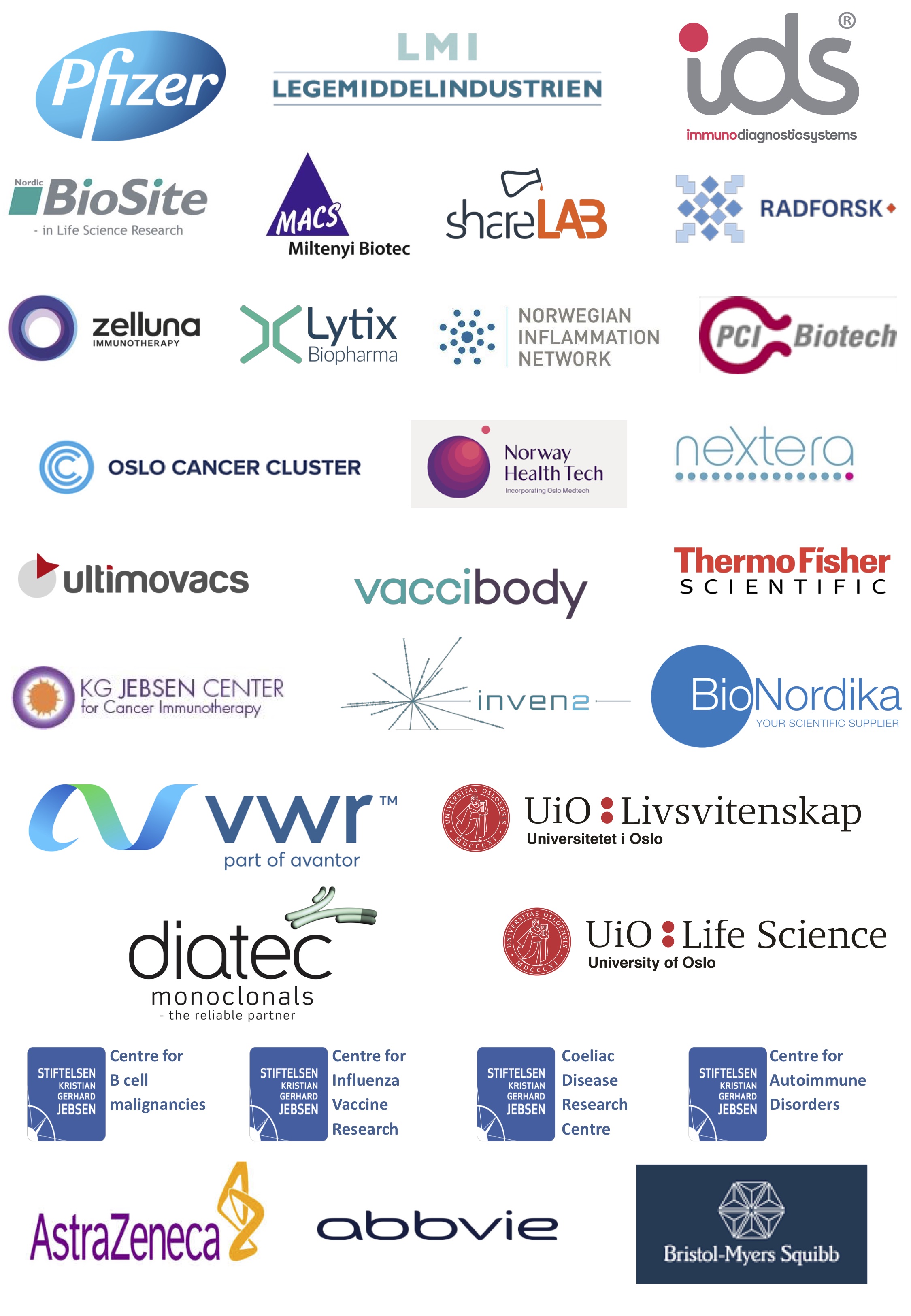 Become a member?
Sign up as an individual or collectively with your research group.
Follow NSI on Facebook!