Day of Immunology 2021
Day of Immunology is a worldwide campaign to increase common knowledge and awareness about the importance of the immune system.
For COVID-19 reasons, the Norwegian Society of Immunology has organized a digital version of the annual popular science meeting this year.
This years theme is COVID-19 and will be hosted in Norwegian.
Torsdag 29. april 2021, kl. 13:00 til kl. 15:30
Registration is free. Program is below:
Kl 13.00-13.05: Velkommen & introduksjon
Kl 13.05-30: Gunnveig Grødeland (Universitetet i Oslo, Oslo Universitetssykehus): SARS-CoV-2 ble et paradigmeskifte for vaksineutvikling
Kl 13.30-13.55: Rebecca Cox (Universitet i Bergen, Influensasenteret): COVID-19 studie på Vestlandet
Kl 13.55-14.20: Arne Søraas (Oslo Universitetssykehus): Forskning på en pandemi i en pandemi – resultater og erfaringer fra Koronastudien
5 min pause
Kl 14.25-14.50: Fridtjof Lund-Johansen (Oslo Universitetssykehus): Antistoffer mot koronavirus etter infeksjon og vaksinasjon.
Kl 14.50-15.10: Birgitte Freiesleben de Blasio (Folkehelseintituttet): Modellering av covid-19 pandemien i Norge-vaksinering og veien videre mot gjenåpning
Kl 15.10-15.30: Kort debatt
Møtet vil foregå digitalt og er tilgjengelig via zoom-link nedenfor:
https://uio.zoom.us/j/67519625611?pwd=OFdjZVNMblV0YllvVWdZMEpSVHlFdz09
Meeting ID: 675 1962 5611
Passcode: 702377
Please click here for more information.
---
NSI Rising Stars in Immunology Seminar Series
For the 3rd instalment of NSI Rising Stars, we are pleased to have Dr. María Casanova Acebes (CNIO, Spain) – see seminar details below:
Speaker: María Casanova Acebes, PhD
'Lineage tracing reveals the pro-tumorigenic niche role of tissue resident macrophages in early lung cancer lesions'
Date: Thursday, April 8 at 14.00
Zoom details: https://uio.zoom.us/j/62332244926?pwd=ZE1sL0dWeE1OSnFFVHhNSS8wUkU5UT09
Meeting ID: 623 3224 4926
Passcode: 430731
Dr. María Casanova Acebes is head of the Cancer Immunity Laboratory at www.cnio.es. She completed her postdoctoral training in the laboratory of Miriam Merad. Here latest work has been published in Nature Communications: https://www.nature.com/articles/s41467-020-15371-0: RXRs control serous macrophage neonatal expansion and identity and contribute to ovarian cancer progression.
We are looking forward to seeing you at the talk! Please let us know your suggestions for future speakers! We aim for a broad coverage of immunology topics, geographical locations as well as gender balance.
Send speaker suggestions to Victor Greiff: victor.greiff@medisin.uio.no
---
NSI Patrons and Sponsors
Immunology is a collaboration between excellent academic research and innovative companies aiming to understand disease mechanisms and develop new therapeutics.
NSI greatly appreciates the support of the following academic centers and industrial partners in fostering the Norwegian immunology community.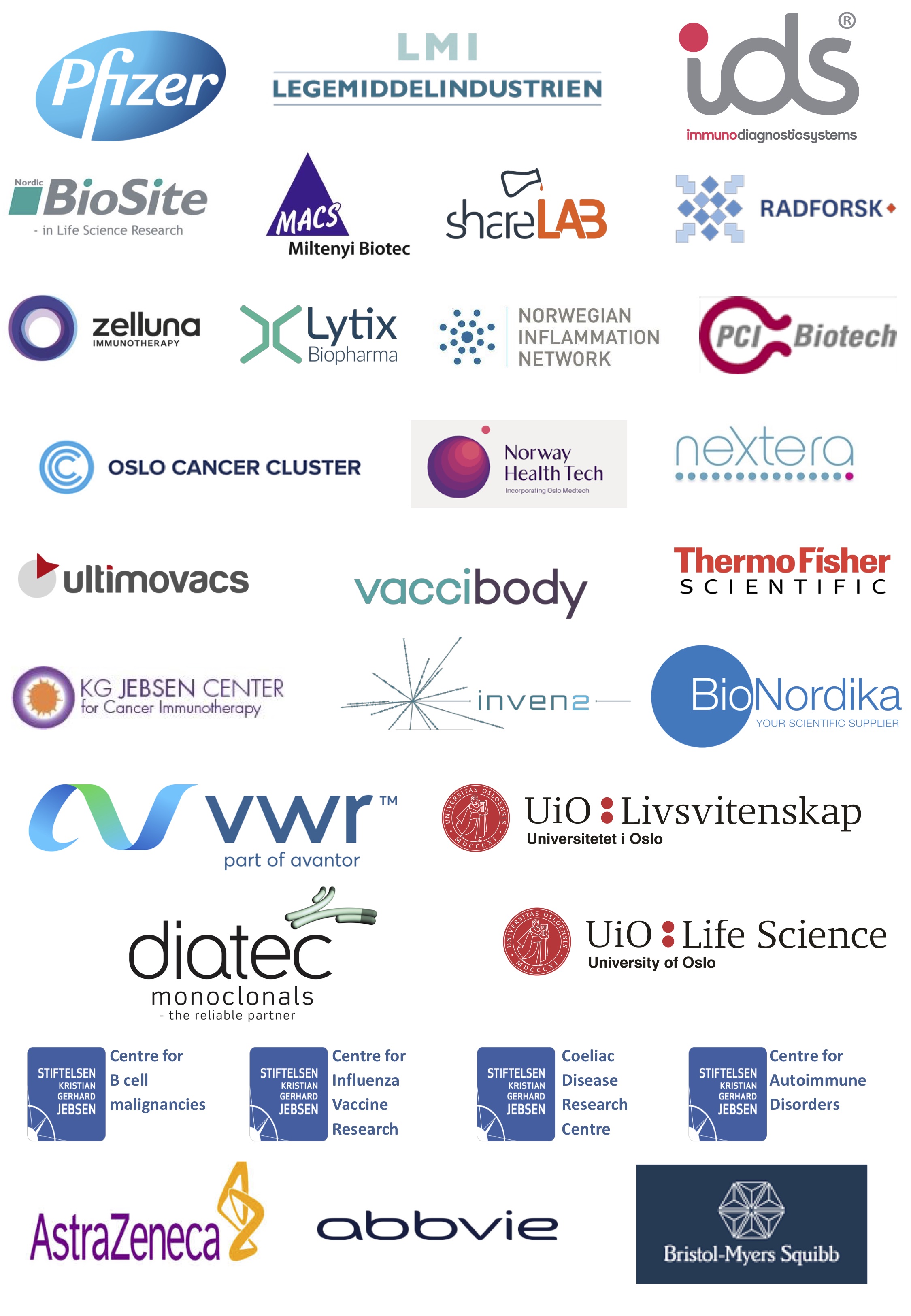 Become a member?
Sign up as an individual or collectively with your research group.
Follow NSI on Facebook!