Norwegian Society for Immunology (NSI)
The NSI is an association of scientists with an interest in immunology, in Norway. The NSI arranges meetings with national and international speakers. Members may take advantage of travel grants for scientific meetings and free access to the Scandinavian Journal of Immunology.
Volunteers are elected to the Board at the annual general meeting, and we are always delighted to hear from members or others who have comments or suggestions, especially when suggesting speakers!
Would you like to become a member? You have the possibility to either sign up as an individual member, or collectively through your research group.
The NSI community is very grateful to its patrons for their kind support!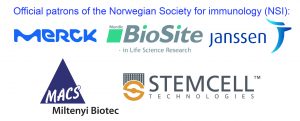 Follow NSI on Twitter and Facebook!
---