In Memoriam
NSI sadly acknowledges the recent passing of two honorary NSI members Erik Thorsby (1938-2021) and Jacob Birger Natvig (1934-2021).
Erik and Jacob were internationally-recognized pioneers of medicine and basic research and helped establish the foundation of the Norwegian immunology community.
Erik Throsby (1938-2021)
https://link.springer.com/article/10.1007/s00251-021-01218-5
Jacob Birger Natvig (1934-2021)
https://www.michaeljournal.no/i/2021/04/Jacob-Birger-Natvig
On behalf of NSI and its members, we extend our sincere condolences to friends, family and associates.
---
NSI Rising Stars in Immunology Seminar Series
We are pleased to have Associate Professor Marco Donia (University of Copenhagen) for the 5th session of NSI Rising Stars in Immunology – see seminar details below:
Speaker: Associate Prof Marco Donia, MD, PhD
Title: Cancer Immunotherapy: merging research and real world evidence
Date: Thursday, June 10, 14-15:00
Zoom details: https://uio.zoom.us/j/65355954320?pwd=bEhkTGl3UDVJaEw5RU4wRGdJV0N1QT09
Meeting ID: 621 0133 2011
Passcode: 802737
Bio: Dr. Marco Donia is Clinician-Scientist (50% staff specialist and 50% junior research group leader), Center for Cancer Immune Therapy-CCIT, Department of Oncology, Copenhagen University Hospital Herlev, Denmark and a Clinical Associate Professor, Department of Clinical Medicine, University of Copenhagen, Denmark. List of publications. https://orcid.org/0000-0003-4966-9752. He is also a Lundbeck fellow with a project to identify and study the effect of the substances that stimulate cancer cells and to attempt to minimise their effect
We are looking forward to seeing you at the talk! Please let us know your suggestions for future speakers! We aim for a broad coverage of immunology topics, geographical locations as well as gender balance.
Send speaker suggestions to Victor Greiff: victor.greiff@medisin.uio.no
---
NSI Patrons and Sponsors
Immunology is a collaboration between excellent academic research and innovative companies aiming to understand disease mechanisms and develop new therapeutics.
NSI greatly appreciates the support of the following academic centers and industrial partners in fostering the Norwegian immunology community.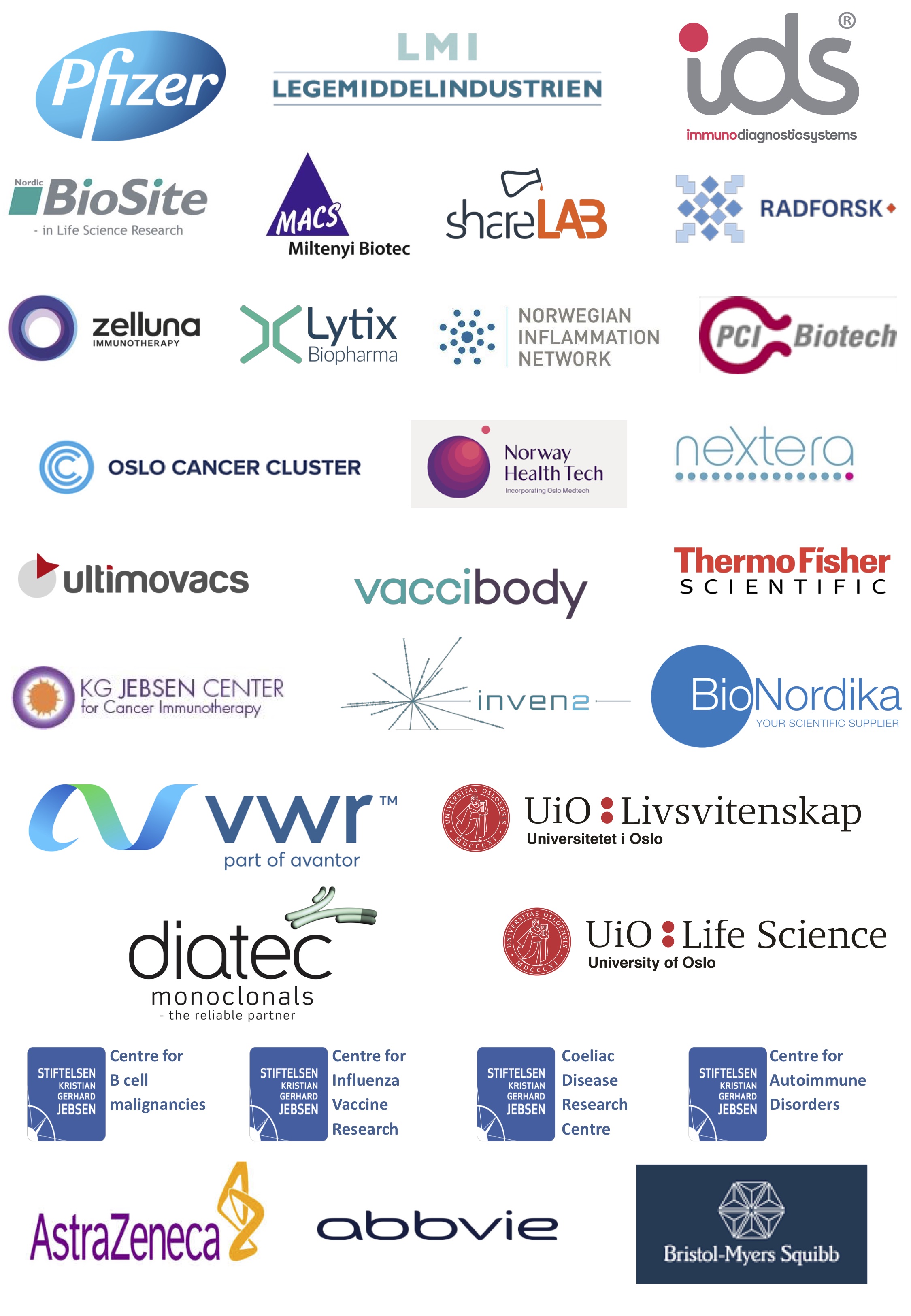 Become a member?
Sign up as an individual or collectively with your research group.
Follow NSI on Facebook!